A retractable awning extends the useful hours of your patio.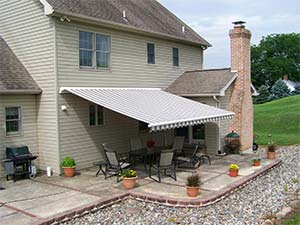 Enjoy your outdoor space like never before… Sit in cool comfort or bask in the sun, add beauty to your home, reduce your energy bills and protect your furniture from harmful UV Rays… it's all possible with this affordable shade solution!
As an authorized dealer for Globe Canvas Products, we offer many types of retractable awnings.
Ideally suited for roof-mounted installations, the XL Cassette offers enhanced fabric protection in a cassette design.
The Jumbscope's unique telescopic arm design shades large areas and withstands windy conditions in which other retractable awnings would fail.
This retractable pergola system provides shade and rain protection over existing pergolas and other VERY large areas. Featuring unheard of Projections up to 23′,
The Select retractable awning provides shade for even larger areas, up to 300 square feet – that's bigger than most Master Bedrooms!
The Select BX is your solution when you need to mount your retractable awning up on the roof (in cases where the available mounting height is too low), or when you would like a more streamlined look as compared to a standard Hood cover.
The Select CrossOver does what other retractable awnings cannot: shade narrow areas.
You can find more details about our retractable awnings here.