Portfolio – awnings and related products
Our portfolio of products includes all types of awnings both fabric and metal covered with aluminum awning frames. For business we offer commercial entrance and storefront awnings. w also offer patio enclosures, drop curtains, luxury beach and poolside cabanas and retractable awnings.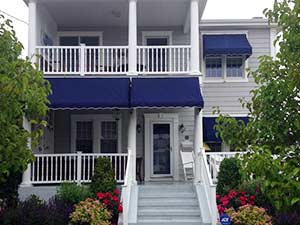 Awning & Fabric Structures – Residential & Commercial
Computer Renderings Available
Awnings Block 94-98% of UVA & UVB Rays
Can save up to 60% on cooling costs
Stationary Patio Awnings
Fully Welded Anodized Aluminum Frames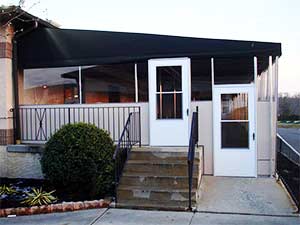 Patio Enclosures
Fully welded anodized stationary aluminum framing system with a combination of fabric and clear vinyl. U-zip windows with screening optional.
Drop Curtains
Stationary fabric with clear vinyl u-zip window (screening optional) or Roll-up fabric with clear vinyl u-zip window (screening optional) or Sun/Wind Blockers.
Whether it"s privacy or more seating for your business, an awning and enclosure can create the perfect added space while protecting you from the elements.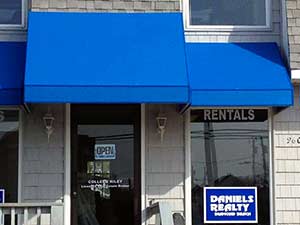 Commercial Entrance & Storefront Awnings
Custom Designs to meet specific building appearance and advertising needs Customer Choice of Fabric, Staple-On Product or Lace-on (for easy removal).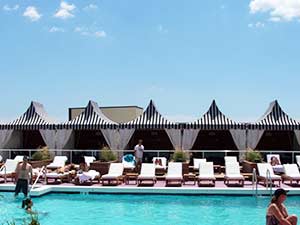 Luxury Beach & Poolside Cabanas
Custom Designed Fully Welded Aluminum Frames
Customer Drawings & Designs Welcomed / Engineered Plans Can Be Provided
Window Awnings
Stationary with Fully Welded Anodized Aluminum Frames Or Pocket Awnings with Rope Pulley System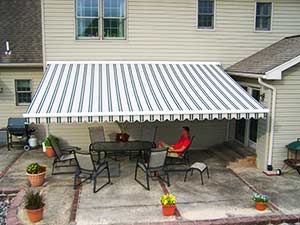 Retractable Awnings
Retractable awnings primarily are designed to provide protection from the sun's rays and not from rain. However, it can be used in drizzle or misting rains with proper unit pitch. In heavy or driving rains, the unit must be retracted to keep water from "pooling" on the fabric and causing damage or irreversible fabric stretching.
Retractable awnings primarily are for sun protection and should not be left out in windy conditions. The concern with wind is the up-lifting effect on the awning rather than the downward force; therefore the greater the pitch, the more wind-resistant the unit is.
Why would I want my retractable awning motorized?
Nothing could be more convenient than simply flipping a switch and watching your awning roll out on its own. Once fully extended or retracted, the unit will stop automatically. You may also stop the retractable in any position with the wall-mounted switch.
Research has shown that a motorized awning is used four times as much as a manual unit. Don't believe it? Consider how few times you would change the TV channel if you didn't have a remote control.
Aluminum Awnings
Completely Aluminum, Metal Body, For Windows & Doors Custom Fabric Structures. We can satisfy specific needs with a custom fabric structure design.